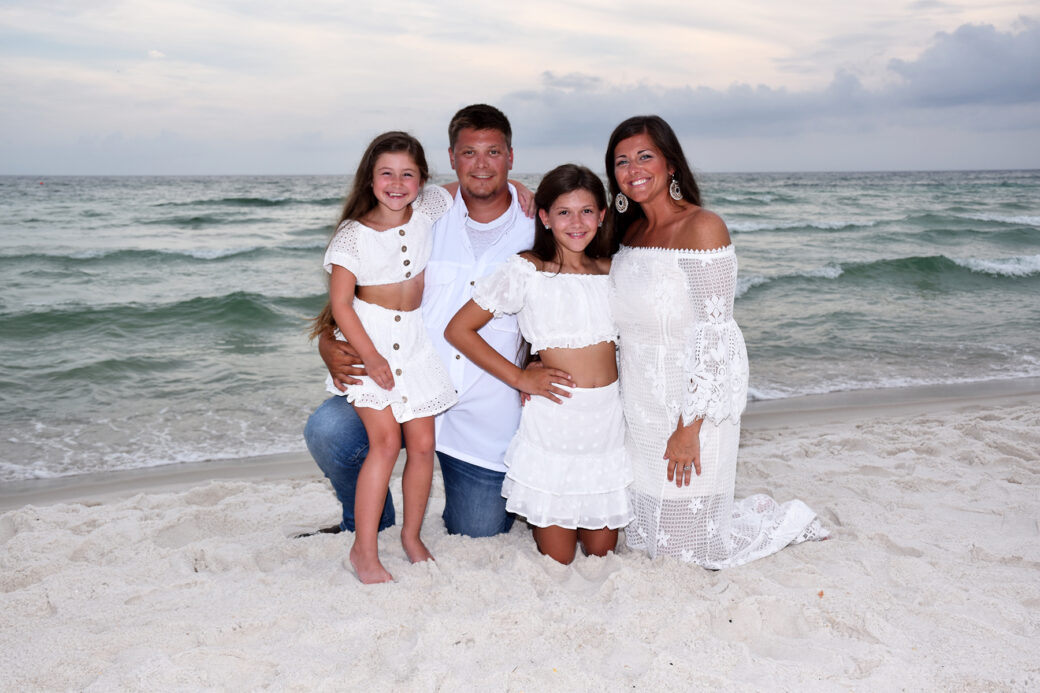 Mother nature has a mind of it's own, especially when you are visiting Florida. I mean isn't this supposed to be the sunshine state after all? We all wish for the perfect weather during our vacation to Panama City Beach or Destin so we can enjoy all the outdoor activities the beaches have to offer, but what do you do if it is calling for rain on the night of your beloved family beach portraits? First off, take a deep breath. Keeping reading for some helpful solutions that will put your mind at ease.
Plan in advance
This may be stating the obvious, but plan out your beach activities in advance. Our professional photographers recommend making your photo reservation during the middle of your stay. This will give you the opportunity to reschedule if sunset is a complete wash out. In addition to having a wider window for scheduling, you are likely to be less sun brunt for the photographs. Booking your sunset photos in advance also gives you first dips on time selection and date preference. Both components can be accommodated same day, however providing you with customizable options adds to the experience!
Clouds, Rain, Wind oh MY!
Keeping an optimistic outlook on the weather is highly advisable when you are awaiting to have your family portraits made that evening! As a outdoor photographer based in Florida, we suggest that clients take weather forecast lightly and try not to worry too much! Typically if rain occurs on the beach, it comes around late afternoon and typically on last for a brief time. We tell folks when it rains, sometimes you get the best sunset after rain happens. It's disheartening when someone reschedules due to fear of weather and it happens to be the best colored sunset that week! But as stated before, mother nature surprise us everyday. A few things to consider when it comes to weather for photos.
1. Overcast is actually better for photos! You may not have the dramatic sun setting over the Gulf in Panama City Beach, however overcast evenings allow for less shadows and tend to be a bit cooler.
2. Plan for Wind. You are getting photos made on the beach, so just keep that in mind when you are styling your hair. You can try a few styles that keep it out of your face, but are comfortable. Bring bobby pins!
Best time for Sunset Photographs
The most popular question our beach photographers face daily is, "what is the best time to have the photos taken?" This is a tough question, because what I prefer for lighting, you may have a differing preference. So instead of suggesting the best time, we like to explain the variety of lighting options when it come to our photography services.
1. Bright Photos: If you want the sky bright blue with the sunshine illuminating the Gulf, we suggest an earlier appointment. These photos are breathtakingly colorful. Just keep in mind, if you have a baby, a light sensitive person, or you want everyone dressed in pants, this may not be the time selection for you!
2. Mid-Sunset Photos: This is a great choice for many group sizes. Our professional photographers always suggest this time to large groups so we have enough time to capture all combinations within the sunset session. This lighting is a bit softer, making the sun less harsh so everyone can open their eyes when they say "Cheese!"
3. Sun as it is Setting: This is a great choice for a more romantic lighting. Photos will be a bit darker and is only suggested for groups less then 8 to 10 people. If weather permits, the sun setting over the gulf is a precious moment when visibility is clear.
To get better understanding of lighting options, we highly suggest browsing through our sample galleries! If you also want to research which locations we offer our photography services, please go to our location pages.