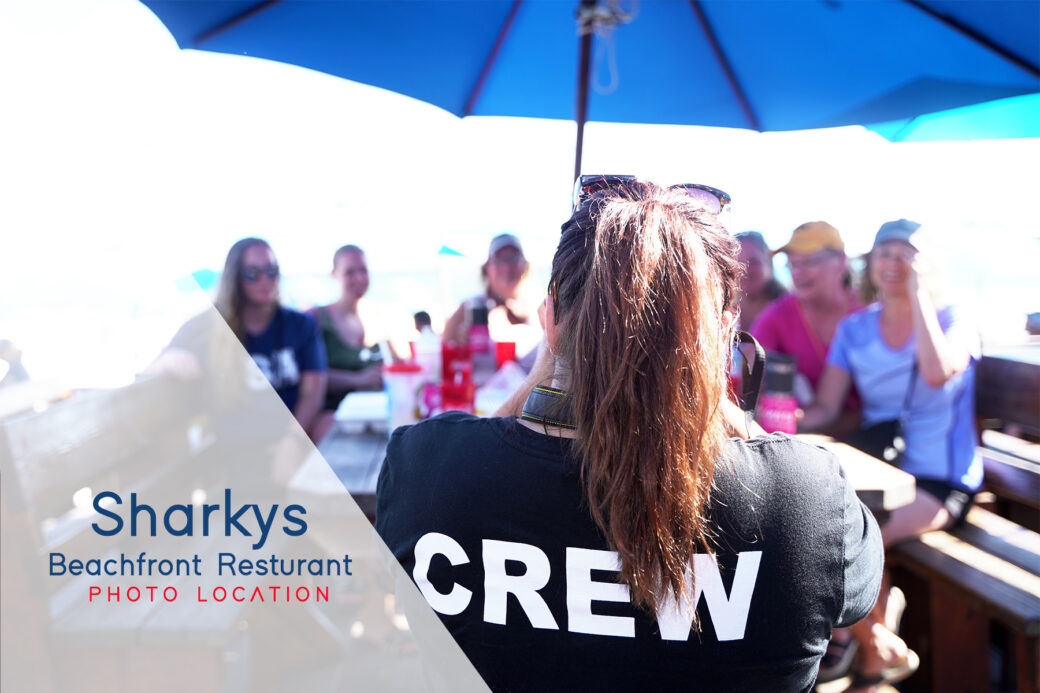 One of the best ways to experience both enjoying the views of Panama City Beach while grubbing down on some mouth watering food in our opinion is checking out the world's famous Sharky's Beach Front Restaurant. But wait there's more, get your family photos taken before your dinner!
What to expect with our Photographers in Panama City Beach
No Session Fee
Same Day Availability (Reservations Required)
Unlimited Amount of People in Group
View and Purchase Same Day (On Location)
Sample Photos from our Panama City Beach Photographers
If you're interested in family beach photos, the next step is to find a photographer in PCB that fits your needs. Below is sample work from our photographers capturing many diverse families in size and age. We have organized the photo galleries for quick access so you can determine if we are the right photographer for your family!
Panama City Beach Photographers Gallery Sample Work
How Does it Work?
1. BOOK: Book your photo session online or by calling one our friendly customer service associates at 850-919-2660. We have a variety of locations in NW FL and our photographers are also on the beach daily for fun, impromptu photos.
2. SMILE: All pictures are "taken today, ready today" and require no sitting fee or deposit. Our photographers guarantee satisfaction.
3. VISIT: Visit our studio to view and order your pictures or view your photos online. We have a variety of products that can be ready in 24 hours.
4. ENJOY: Enjoy your beach memories for years to com
Hitting the beach can lead to some serious appetites
Since 1986 Sharky's Beach Front Restaurant has been serving locals and tourists alike, a big serving of satisfaction! How did you think it became world famous? This is the go to spot if you are looking to enjoy many things Panama City Beach has to offer-all in one spot. We are here sharing our knowledge about this prime time spot, so you don't miss a beat this vacation.
While hitting sandy beaches of Panama City Beach.FL this vacation, you may want to consider where you set up for the your beach day. As the sunshine creates beautiful tans, it also can lead to hungry tummies.
Sharky's menu offers plenty of options to refuel. If your looking for crowd pleasing sharables or just wanting to sink your teeth into a big juicy island burger, Sharky's is the spot. Although this location can cure your sun shine hunger during the day, many folks head to this gulf front location to enjoy a sunset meal. "
The view is almost as good as the food" some say, and we have to agree with that! Is this making you hungry yet? Check out: (Sharky's Menu)
Entertainment for the enthusiastic
Events in the Panhandle are becoming more frequent and diverse. If you are looking to partake local experiences, Sharky's is a great hub for a ton of local events. From tunes to tune ups, Sharky's hosts annual events along with weekly entertainment to surely keep your time at the Tiki Bar loaded with fun. For more details on local events see: Sharky's Event Calendar While the adults are grabbing a cold one at the Tiki Bar the kids will be having a ball on the Pirate Ship playground. Did we mention that kids eat free when you are staying at a Seahaven Property.
Family, Fun, and Photos
Dressed to impress, why not seize the perfect opportunity to capture your beach family portraits right before your delicious dinner. Smiles Beach Photo has an on site photography service capturing sunset family beach portraits along with candid table snapshots. Our local Panama City Beach photographers know all the best places on the property to grab that perfect shot!
Location Information:
Here is a map for quick reference on where Sharky's Beach Front Resturant is located.
Location Information:
Photo Hours of Operation: 5:30pm -9:00 pm Daily
Phone: 850-919-2660
Pro Traveler Tip: Booking your sunset family portraits in advance to ensure you receive the lighting you prefer. Make sure to ask one of our specialist to assist with options!
Our experienced photographers are available throughout NW Florida's beaches. Contact us for more information about scheduling your family beach portraits!