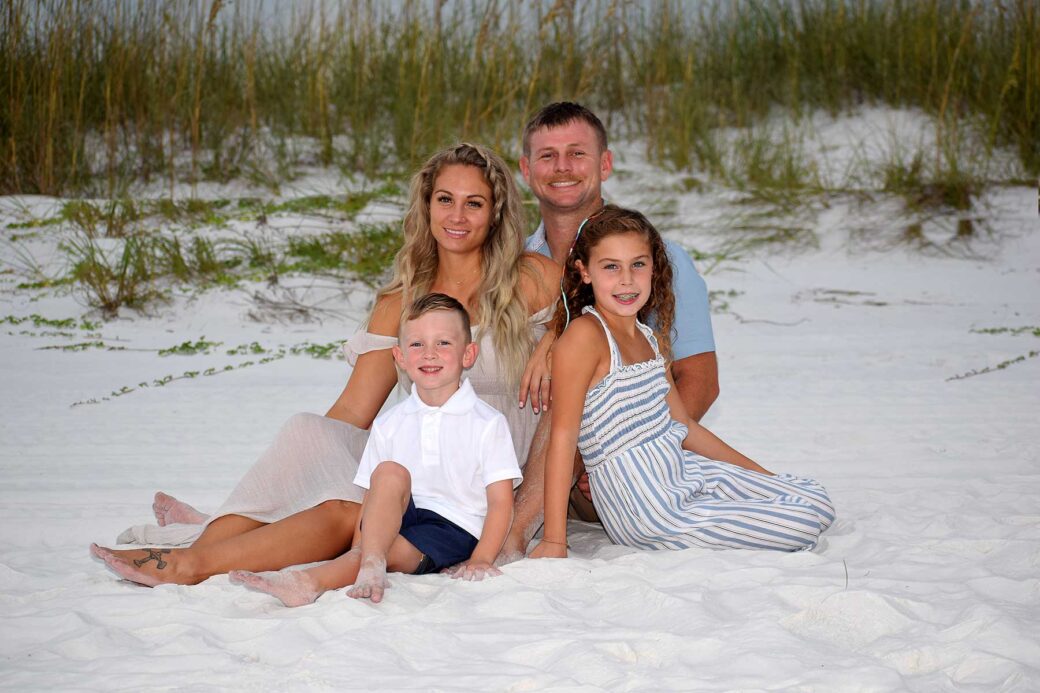 Planning a perfect family photo can be stressful, especially for the beach. Here are some tips to stress-free family beach photos!
Next stop, Panama City Beach for a full week of sun and fun! With all there is to do and see in our beautiful beach town, you may just loose track of all time during your stay. Great for escaping, bad for planning activities. Our professional Panama City Beach photographers make family vacation photos so easy to book and conduct this is one family beach activity that you won't wanna miss.
Our Panama City Beach Photographers' Tips
Book Your Photoshoot Mid Stay
Booking mid stay is such an important factor when planning for family beach photos. Remember you are dealing with Florida weather conditions and radar tends to change throughout each day. The best advise from the pros is to give yourself some cushion time, so if need be you have a few extra nights to reschedule.
Planning Outfits
The more pre-planning you do the easier the entire day will be. Our recommendation is to have your outfit ready before come to Panama City Beach. Let's face it. Most folks would rather be soaking up the sun on the Gulf than waiting in an extremely long line at a retail store. Also think about your photoshoot color scheme. Do want classic neutrals or something bright and bold? Our blog post What to wear in family beach photos has lots of helpful advice. Whatever you decide, we also have tons sample photos to browse for ideas in our Smiles Beach Photos photo galleries.
Transportation to Appointment
When booking with your photo session, our coordinator will speak with you and exchange some important details. We have multiple locations across Panama City Beach, FL. So depending on where you are staying, we try to make it the most convenient to upi. We do recommend once your appointment I booked, definitely look at your GPS but also keep in mind it is a vacation town. Everyone tends to be on the roads around dinner time, so give yourself extra time for travel. It's better to be early than late!
Eat a Late Lunch
Eating a late lunch will serve a number of wonderful purposes. It will get the family off the beach a little earlier than normal. After your late lunch, this will allow you to suggest that some of the family members start getting ready. Another great benefit for feeding everyone for a late lunch is bellies will be moderately full during family photos. Nothing worse than cranky starving kids or overly full adults trying to play it off like they are comfortable. With a little planning, you can even grab dinner after your photoshoot since most photoshoot locations are based out of beach front restaurants.
Odds and Ends to Bring Along
All beach photoshoots are conducted outside. With this brings outdoor conditions. We have a quick list of odd and ends that have shown to be helpful when we are conducting our photoshoots.
Bobby pins, hair ties, brush, hair spray
Snack for kids, candies, TicTacs
Mirror and makeup for retouching
Props to incorporate: beach hat, balloons, sonogram photo, little beach chair, etc.
Keep the Mood Light
Remember this isn't every kids' favorite thing to do while on their beloved vacation in Panama City Beach. So keeping the mood fun and light really puts everyone in the right mood. Also, giving the family something to look forward to acts as a real winner. That favorite ice cream shop the kids are dying to try or a fun night of competitive mini golf are just a few ideas to keep the family fun rolling.
Trust Your Photographer
Our professional photographers in Panama City Beach have photographed thousands of families. With this amount of experience, your photographer knows flattering angles and poses to make everyone look and feel their best. They also know how important it is that your photos look the way you desire them to be. So another great quality of a photographer in Panama City Beach is that we are flexible and open to ideas.
We love to collaborate with ideas or if you simply allow us to conduct the entire photoshoot. We promise you will love your beach portraits!
Take away thoughts from our pro beach photographers:
Planning ahead can really be a lifesaver. Book mid stay, this will allow time for rescheduling if need be.
Get to know the area. When you are driving around pay attention to the roads and traffic around dinner time.
The morning of your scheduled beach pictures, make sure everyone has their outfits.
Trust the Pro's to assist you with hair and posing.
Want to see samples of our Family Beach Photoshoots? Here are some samples of sunset family photos and large group sunset photos.
And if you are ready to plan your family photo shoot, contact us today.