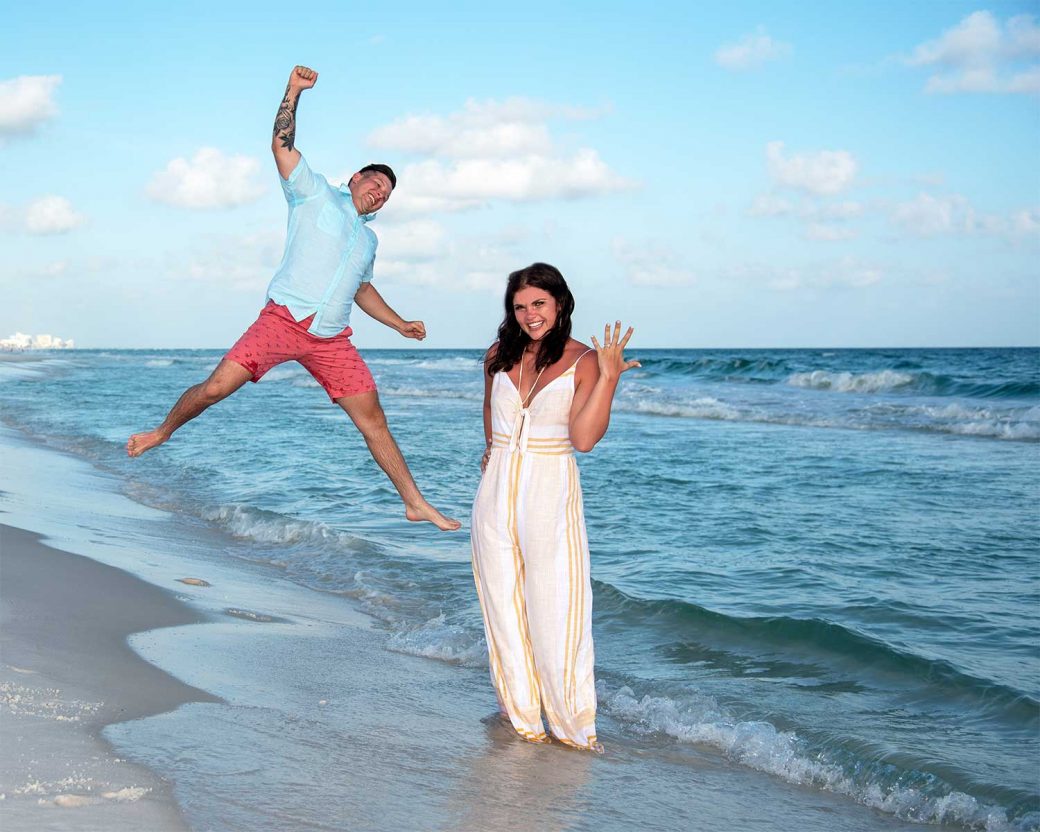 Imagine the sun is setting over the pristine Gulf waters as you and your partner walk the sandy white beaches. Now that's a romantic setting! The beaches of Panama City Beach, Destin, Fort Walton Beach, and Miramar Beach offer some of the most spectacular scenic areas to capture the big moment when she says YES! Now the backdrop is one thing to consider, but the actual proposal can be overwhelming. We have narrowed down our top pro tips in order to receive an enthusiastic "YES" from your future fiancé.
Tip 1: Book your Beach Photographer
Being that this is the gateway to the next chapter of your relationship, documenting this moment is extremely significant. Not only can you utilize the photos for wedding planning but guarantee the expression that is captured when she says "yes" will be forever cherished! During our proposal photo shoots our Panama City Beach photographers have had 100% of proposals say YES! Can't guarantee this, but those are the current stats. We recommend that you book your photographer first, then all of the additional planning can follow. Our PCB photographers can even give you some ideas on how to ask if you need assistance.
Book in advance so you are guaranteed the best sunset lighting
If you are traveling with family, make your photo appointment reservation for the entire group, then make sure to rely there will be a proposal involved
Plan your photo reservation for the middle of your vacation, just in case of weather conditions. This will allow time to reschedule for the perfect evening.
Do it before dinner! Nothing worse then a ketchup stain next to a diamond ring!
Tip 2: How to Ask
The most important thing to consider is you future fiancé's personality when it comes to popping the question. You want this grand gesture to feel genuine and natural. Here are some unique ways that are sure to have her say yes!
Schedule a family photo shoot. Within the photo shoot your Panama City Beach photographer conduct the session as normal then half way through they will get some of the lovely couple. The photographer will direct women to look down the shore line while the man gets behind her on one knee. Perfection! Everyone gets a front row seat and your PCB photographer gets the money shot!
Message in the sand. If you are the artsy type, this may be the way to go. Although this method has been used over the decades it is a classic option and has resulted in many yes's. If you want to add some more creativity, flower pedals, champagne and music add a nice touch. Don't forget the bandana to cover her eyes!
Beach Scavenger Hunt. If you are person who struggles with words, setting up a scavenger hunt on Panama City Beach is defiantly a fun way to lighten the mood. We suggest leaving clues around Pier Park would be ideal. Start by grabbing a drink at famous Margaritaville give her a clue, leading her directly across the street onto the sandy beach to continue the search! Don't forget to coordinate with your photographer about what you will be wearing so they can discreetly snap some candid photos.
Tip 3: Where to Ask
The where will depend on the how and if you want gorgeous post portraits of the proposal. All of these factors should be considered when choosing the where. Our photographers in Panama City Beach recommend Pier Park beach and Access 40. The pier allows for a variety and has a more rustic feel. If you want something more inanimate Access 40 tends to be more private and allows you to view your photos directly after the photo shoot. However if you are planning going on the Sky Wheel or on a dolphin cruise these moments can also be a great spot, just keep in mind if you are traveling alone, you are going to want photo coverage. View more samples from some of our previous surprise proposal photo shoots.
Tip 4: What to say?
This is a tricky. Most of the time if you pour your heart and soul into the proposal words are going to flow out naturally. Although practice makes perfect, perfection is not what she is going to remember. The gestures leading up to the moment are just as important the the actual question. So really use your resources to prepare. Asking the local photographer in Panama City Beach can really provide you some helpful information about the area and provide a sense of organization to your big day.
Book a surprise proposal photo shoot or contact us for more information.