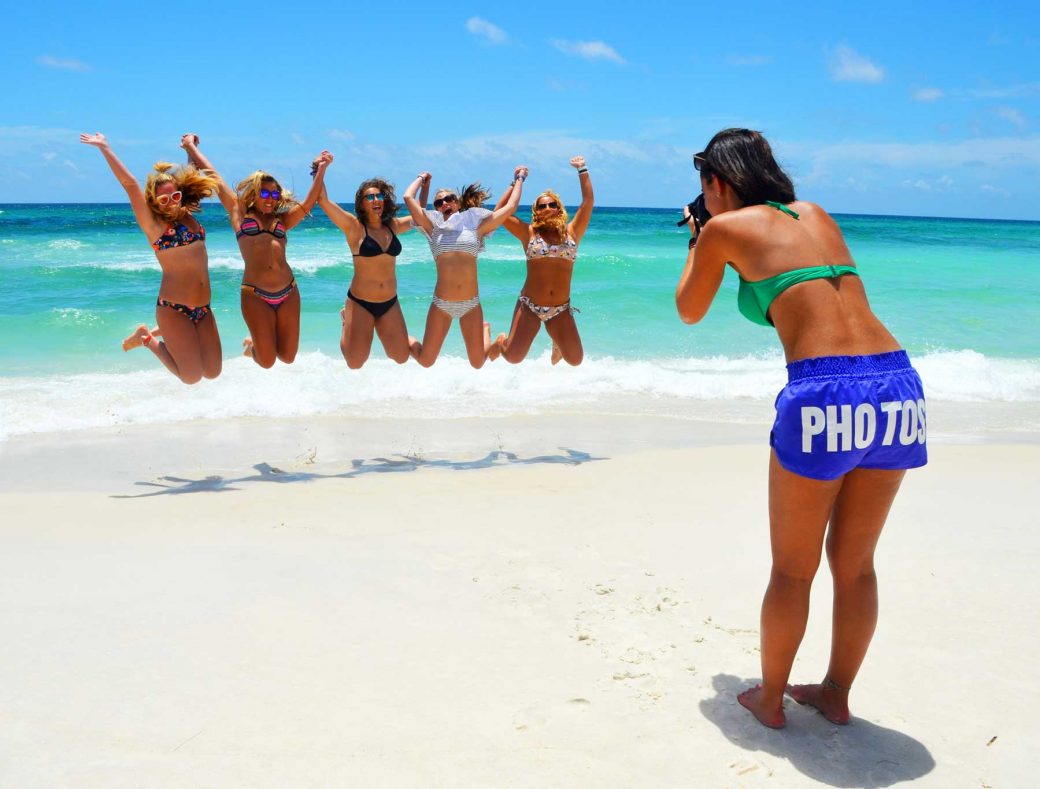 Why Panama City FL for Spring Break?
Well, Panama City Beach has earned its title of Spring Break Capital of the World. The little beach town set out to welcome the college crowd when lots of other coast towns were putting up not-welcome signs, and local businesses really put out the welcome mat. When MTV hit PCB for Spring Break starting in 2006, it really put us on the map, and we've held that spot dearly ever since.
Present day, the town has really florished into a well rounded spring destination. Offering not only great events for college students but for families too. And, spring break is a great time to get some beach photos from our Panama City Beach photographers.
But if you're coming to party, the Maniac VIP Card is something you definitely want to consider. The card gets you free cover, free concerts, free drinks and tons of savings. They have a VIP schedule listed each week with times and events to really make the experience easy and fun. With appearances from MTV celebrities to live entertainment such as Diplo, you will not miss a beat if you follow the VIP schedule.
On the other hand, if you are bringing the family for a visit there are a few helpful tips to avoid college crowds.
Look into renting an Airbnb (more personal space away from noise in hotels).
Try going to dinner a little early to avoid traffic.
Hit the beach early. Most college students won't be on the beach before noon.
If you stay in a hotel try to stay on a lower floor–no need to wait on elevators.
If you plan to go out to dinner, check to see if restaurants accept reservations.
Enjoy the Beaches and Other Fun PCB Spring Break Activities
With 27 miles of beachfront, there's lots of beach to enjoy on PCB. The white sand beaches are among the most beautiful – and most active – in the world.
Check out some of our favorite beachfront activities while you're here.
We recommend the oysters at Sharky's and the margaritas at Harpoon Harry's.
You can also eat at Jimmy Buffet's Margaritaville.
Wander around Pier Park.
Visit St Andrews St Park.
Visit Shell Island.
Hike the trails at Conservation Park.
Have fun at Shipwreck Island Water Park.
Go snorkeling.
Go scuba diving.
Go deep sea fishing on a charter boat.
Fish from a pier.
Go parasailing.
Visit the Gulfarium Marine Adventure Park.
Rent a jet ski or waverunner.
Go paddleboarding.
Do yoga on the beach.
Rent a bike and ride a bike trail.
Hold an alligator.
Go golfing.
Play mini golf.
Ride a banana boat.
Try some new watersports.
Don't Post to Facebook Between Midnight and 6 A.M.
We totally stole this tip from our friends over at Spring Break Central because it's so true. Seriously. Chances are that anything you'll be tempted to post to Facebook (or Twitter, Instagram, TikTok, or – heaven forbid – LinkedIn) will come back to haunt you. Have a blast – and hide the evidence!
Capture your Spring Break gang at their best!
Give us a call to set up an appointment with our Panama City Beach photographers.
Whether this is your first Spring Break or your last, you're guaranteed to have a great time. We can help you commemorate all the memories with Panama City Beach photos and photo souvenirs.