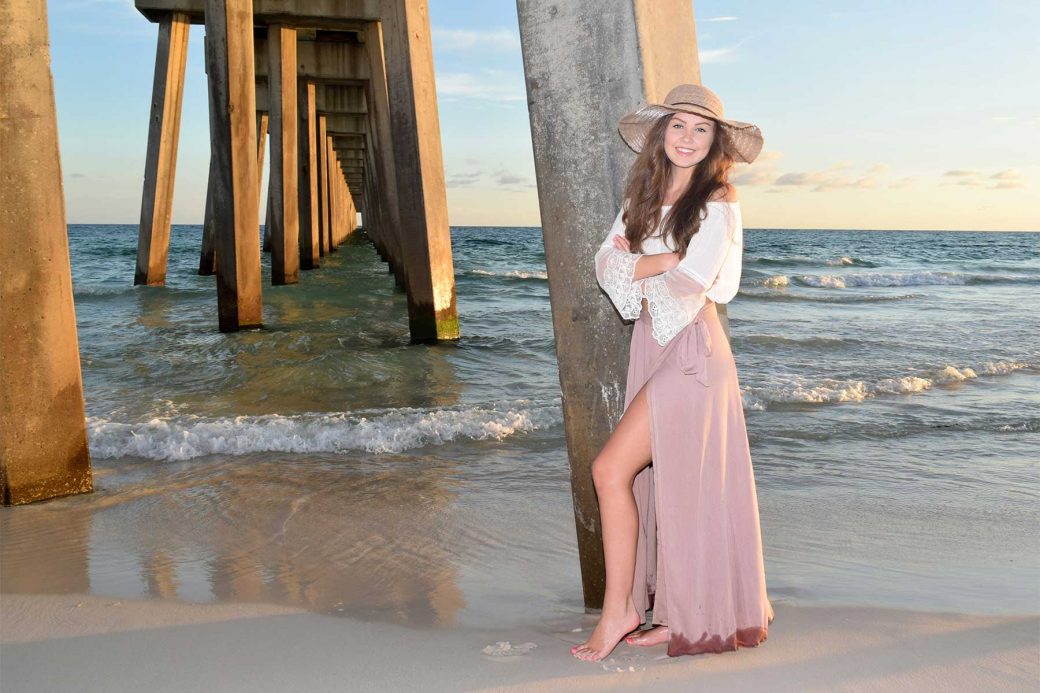 If you are visiting Panama City Beach, Florida, this spring break what a perfect opportunity to capture your Senior Portraits! Luckily enough, we are pros on the beautiful beaches around town and all they have to offer. This results in unique backdrops for one of your most memorable snapshots of your life.
Not only can we advise on locations, but the session itself will be custom to your personality. If you are a little late to the party and need 2021 Senior Portraits, or if you are a pre-planner and are currently deciding on 2022 Senior Portraits, here are some helpful ideas for your school pictures.
How to Choose the Right Location
This is an easy one. We have multiple sites where we conduct our photo sessions. To give you an idea, if you like a rustic looking photo, you may want a site like Pier Park. We can capture you under the pier, on the pier, and it looks stunning as a background object to offset the beautiful Gulf Waters–especially at sunset! Not to mention the sea dune area. This is just one of our many sites.
To further understand your options for the right setting, visit our location page at https://www.mybeachphotos.com/locations/panama-city-beach/pcb-photo-spots/. Or speak to one of our friendly customer reps. They can explain what each site has to offer.
What to bring to the Session
This session is all about you, so we highly suggest bringing whatever will help express yourself. Whether you are a dancer or a football star, simple objects can help transform your session. If you would like an outfit change during the session, this can also add to the variety in the shoot. And the best part is there is no extra cost for the outfit change! Just ask about details when booking so we can plan accordingly.
What Time is Best for my Portraits
The best time to get your photos made is by far Sunset. Panama City Beach is known for the sensational sun setting over the pristine Gulf Waters. Although there are many colors that derive from each session based off mother nature, we can advise timing as well as what to expect with each time slot. If you prefer a brighter photo verses and romantic darker image, we may suggest booking an earlier time.
But when are my Photos Ready?
All Photos are ready to view and purchase same day. So you are able to leave with your products in hand!
One major component that sets us apart from anyone else is our turnaround time. We understand the importance of time, especially during your visit with so many other things on the vacation to do list. Your session is ready to view instantly afterwards at our state of the art Studio located in the Shoppes of Edgewater. Here you will be greeted and assisted by our Studio Representatives to navigate through your images and show you all your purchasing options.
April 2021 Special Offer
So you have made it this far in the article, so now let's talk cost. If you book in the remainder of April 2021, your Senior Portrait session is just $199. The session is unlimited posing and did we mention you can outfit change? If you are not visiting Panama City Beach until the summer months, do not worry this offer still applies. You just have to book during April 2021 and this will lock in the rate. So if your vacation is not until August 2021 but you booked in April, this offer is still valid. Just mention the April 2021 Special during your booking.
Remember it is about Having Fun!
Senior Portraits on Florida's beaches will make for a stunning photograph, but we are all about having some fun during our time together. Our photographers are skilled with the camera, but also encompass one-of-a-kind personalities that will surely create a genuine smile.
To further learn about our photographers we highly suggest to visit our photographer portfolio section: https://www.mybeachphotos.com/photographers/ or visit our Senior Portrait Gallery for more visuals: https://www.mybeachphotos.com/sessions/senior-portrait-photographers/