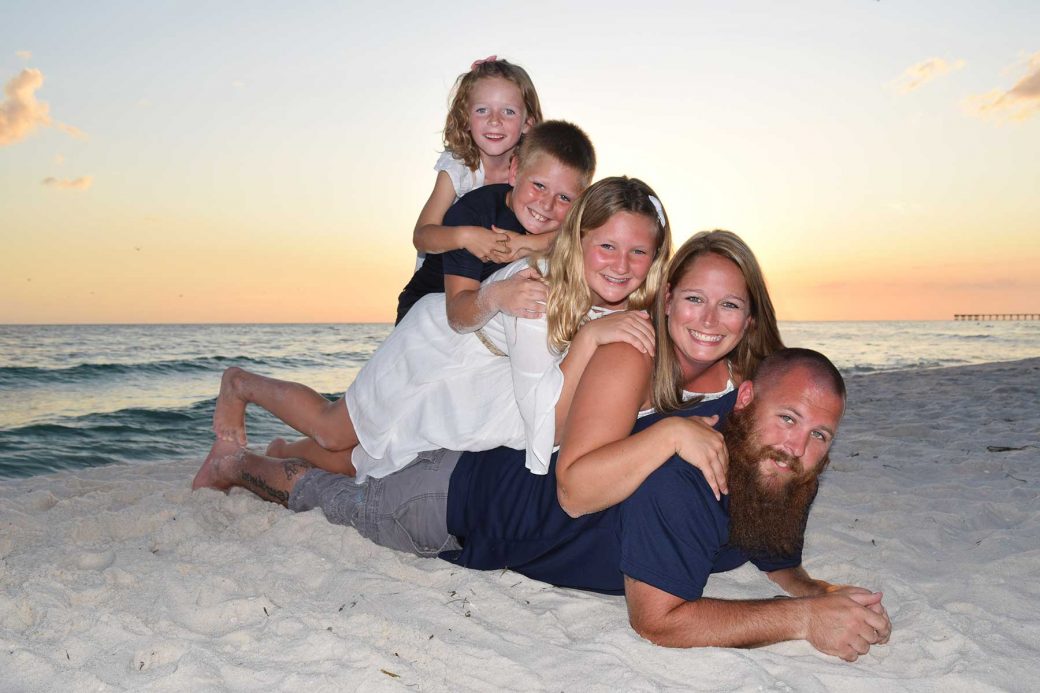 Ever been caught up in the fun and forgot to snap some photos of the moment? Next thing you know your vacation to the beautiful beaches of Panama City Beach, FL, or Destin, FL, is coming to an end. While scrolling on your phone to reminisce the trip–only to find you have taken only a few shots and the kids weren't even looking!
Well you are in luck, Smiles Beach Photo offers unlimited photo coverage during your entire vacation stay. Unlike other companies we are there daily to capture your fun beach memories in addition to being available for a more formal portrait during sunset. Let's dive in a little further. I know you have some questions.
How to get more Bang for your Buck…
The Lemish Family has been a valued customer for years. They are a perfect example that you can get more bang for your buck with Smiles. To give you a little background, the Lemish family had always gotten their images made during the daytime, while the kids had a fun beach day. The kids love to pose for the camera but even more so to show off their updated souvenir keychains that they hang from their book bags each year.
But this year was going to be different. Even though Smiles offers same day bookings, they opted to book their first sunset family portrait days in advance in addition to their annual fun beach snapshots. They booked their evening session towards the latter half of the trip, so they had time to work on that tan!
Consider: Convenience for your family vacation photographer
Well, as for convenience factor, Smiles is very flexible and is here to serve you. Your time on vacation is not only limited, but should be spent enjoying every aspect of what the Panhandle encompasses. During the daytime photographers will be readily available and will work tirelessly to get everyone to look great. These photos will be collected where ever you may be setup for your beach day and we highly suggest to get them taken multiple times throughout your stay.
Talk about convenience! Through their unique and fun poses, everyone from mom and dad to the kids will have a blast. However we have designated suggested photo locations for sunset sessions. The locations are filled with options and are the most optimal areas to capture your family vacation portraits in the Northwest Panhandle. (Learn about our photography locations.)
When booking your evening photos, we will guide you through the process to find what area best suits your group. The goal is to be most convenient for you… so this means we can book the same day and you will be able to view/purchase photos immediately after your photo appointment.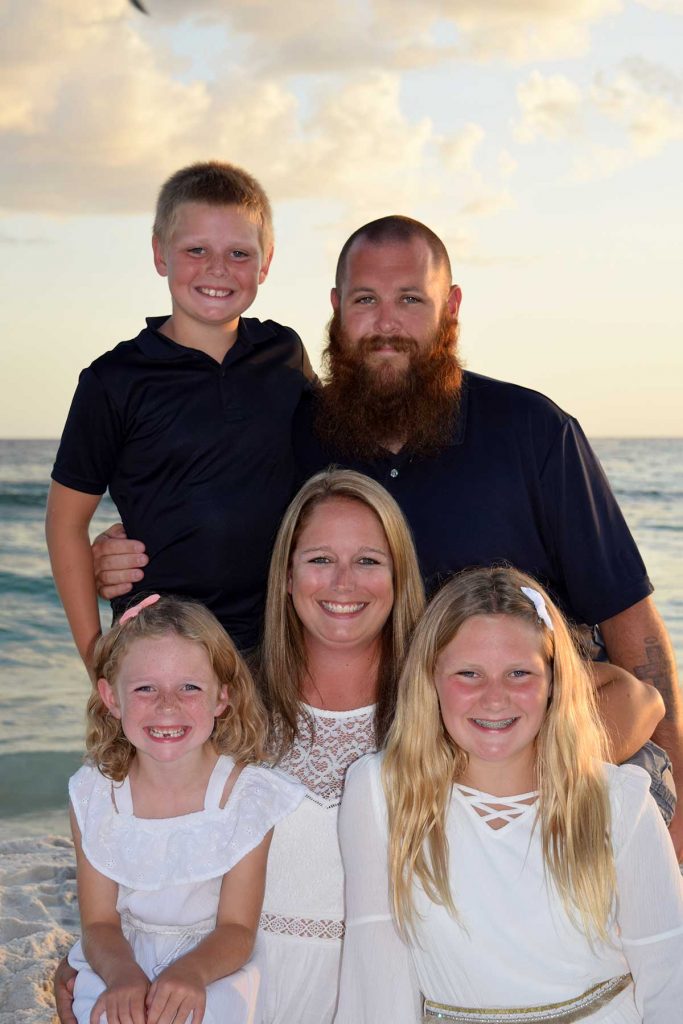 You can have quality and quantity
Things to consider when choosing your vacation photographer…
We pride ourselves on being a full service unique experience. When choosing a photographer you may want to consider more then just a portfolio. Think about it, how does this image get captured? To photograph children on an outside windy beach can be challenging. This is one aspect that may seem effortless but can be overlooked.
Our employees are high energy and most of all experienced with all types of group dynamics. Our formal portrait photographers have to be qualified to be eligible to capture your sunset appointment. We also have digital portfolios for reference if you would prefer to request a particular person. Please visit our photographers page.
From your interaction with our phone staff, studio representatives to our photographers we take care of you like family. That is the reason why we want to allow you to own ALL of your images when you return home. Lots of photographer only offer packages that limit your ownership of the images taken. This is another aspect that can be over looked when researching. Why limit the customer to only choosing a hand full? Down the road you may just want to use that image of the kids for a holiday card. This is why we do not limit our customers to how many images they can own. We actually encourage the opposite. To get as many photos taken during your vacation and by the end you will have full photo coverage to choose from.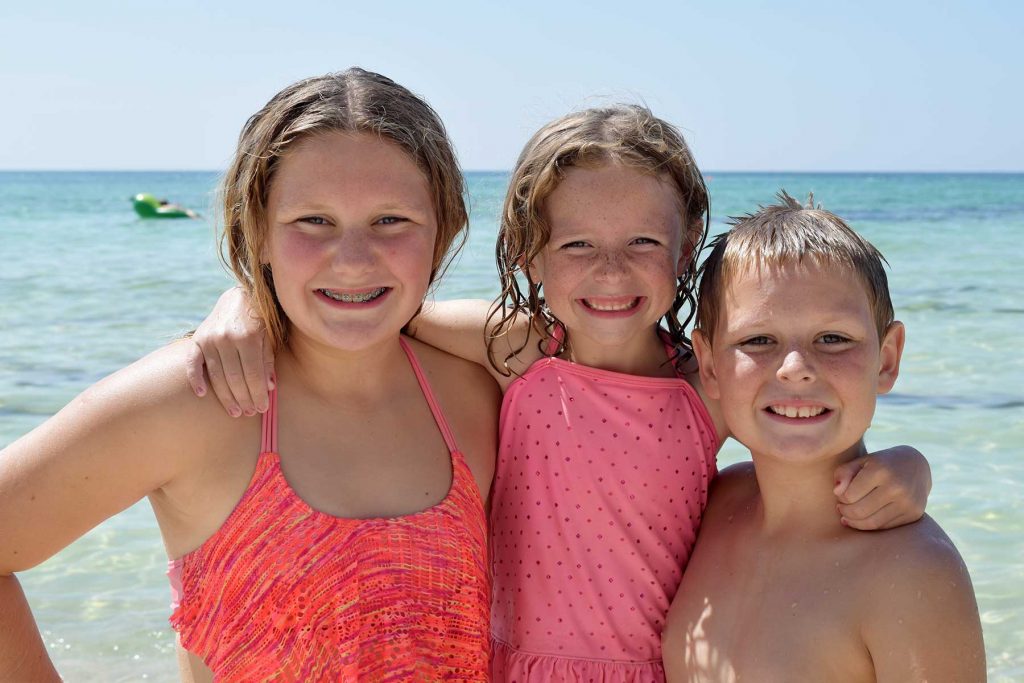 Choosing Prints, Souvenirs, or a Digital Package?
So now its the end of your vacation and it's time to visit our storefront. By the way, this is another reason why Smiles caters to our customers. From the moment you arrive, you know this is going to be a pleasant experience. The friendly staff are there to assist with selecting the ones you love, editing, adjusting, and going over all the products and packages. There are plenty of purchasing options that fit every budget. All photos are taken for free, so this means the is NO obligation to purchase.
If you are running low on funds we have options to purchase individual prints, or if you fall in love with all the photos we offer packages that gives you the full copyright to the photos! Whatever your choice may be, each order is custom to your liking. Too often we display our photos on a screen, which is completely acceptable, however a printed memory that can be display in your home should be made with care and love. So let Smiles take the burden of rounding up the group, coordinating everything and let us do all the work for you. Remember you're on vacation!