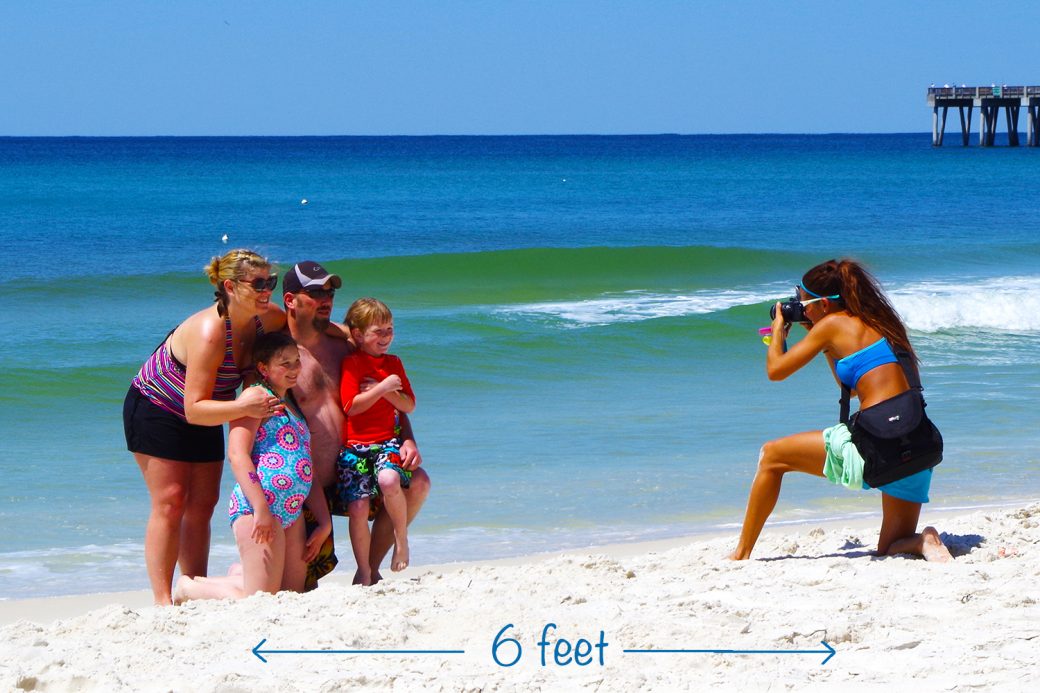 Panama City Beach is the perfect area for families to escape to paradise. With all the chaos over the past few months, everyone is overdue for some sunshine and beach relaxation! Although our beaches are fully reopened to the public, we understand the importance of protecting one another. As Panama City Beach, Florida, photographers, we love our visitors. We are putting safety first through our daily practices. We want every PCB visitor to enjoy their vacation and don't forget the beach photos!
Our Daily Efforts to Keep Everyone Safe
Since our job is a fun PCB activity, we would like to keep it that way. So our Panama City Beach photographers are taking extra precautions to do our part. Daily we are sanitizing equipment, checking employees daily for symptoms and most importantly practicing social distancing. Although our company loves to be hands on, we are adapting how we conduct our photo shoots. Don't get me wrong, we still roll in the sand to get the priceless snapshot, now just a few feet back! Our storefront, is spacious allowing us to social distance our viewing kiosks. Each kiosk is sanitized between customers and allows plenty of space per group.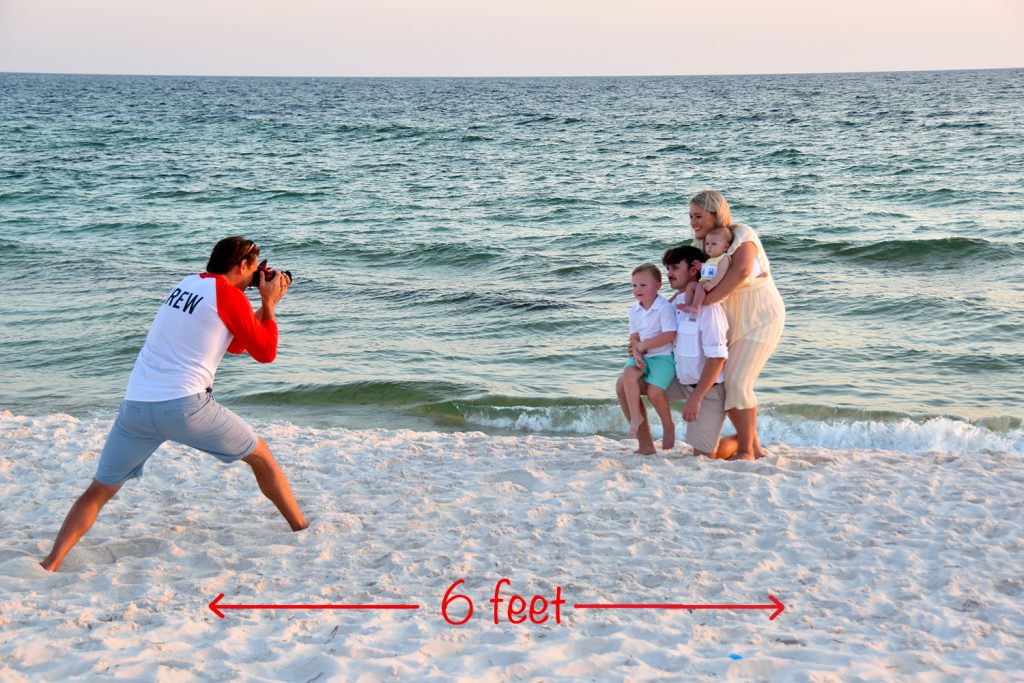 Great New Vacation Activity for the Family
Planning the entire beach vacation shouldn't be stressful. Between the beautiful Panama City Beach, restaurants, and water sports, your schedule has a lot of opportunity for some family fun. This day in age we are re-innovating family activities, for the better! A new beach activity could be family sunset photos. Families love to get all dolled up, get the photos made, then head out to dinner. It's hard to pick the best part of the experience, because every family enjoys spending time laughing and creating new memories in PCB on camera. If you are more casual and hit the beach daily, our PCB photographers will be ready to capture some great beach photos! For more information view our sample beach photo sessions.
The beach this time of year
Visiting Panama City Beach for summer holidays is a tradition to lot of folks. This year may raise some concerns, but with Memorial Day right around the corner we are optimistic that it is safe to enjoy the holiday at the beach. Our community has followed recommend guidelines for reopening while continuing to maintain safe practices. As for a friendly visitors, we ask you keep a few things in mind during your vacation stay. The beach is a large open area, so lets utilize the space. Spread out! Not only will this help with social distancing but it will also allow you to setup your beach essentials comfortably. Also if you aren't feeling well, hang in the room and limit interactions with others, until you know you are a healthy member of society. Here are a few beach essentials you definitely want to pack for your trip.
Essentials for Hitting the Beach
These items are practical for keeping your family safe during traveling and vacation stay.
Hand Sanitizer (Mini bottles for beach bag)
Sanitizing Wipes (Travel size are great for the beach bag)
Thermometer
Plenty of water and fluids (Make sure everyone has their own water bottle)
Vitamins and Emergen-C packs (This will help keep everyone build a strong immune system)
Well balanced meals (Make sure to pack nutritious snacks for the beach, oranges, apples, etc)
And of course, remember to not touch your face, get plenty of rest and try to get some exercise. (Walks on the beach count as exercise!)