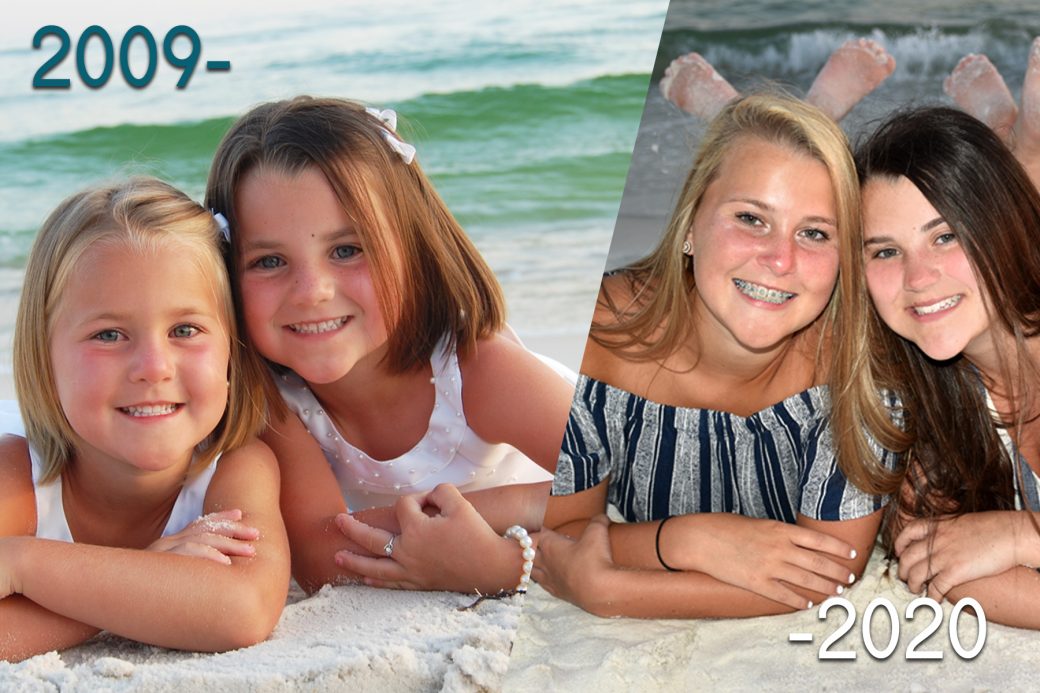 Do you remember as a child flipping through family photo albums, learning about relatives, their personalities, and family gatherings? In today's society, yes, we have the privilege of technology leading us down a fast track to convenience. But perhaps we should take a moment and cherish the time we have while our children are still children. One way we can stop and honor family is through traditions. Traditions can be simple, easy, and fun. On your vacation to Panama City Beach or Destin, FL, photos are a wonderful activity for the entire family.
Not only will family beach portraits give you something to look forward to, they provide some quality time with one another (without the screen time) and the end product is something that you can cherish for years to come. As a bonus, our professional photographers will keep you genuinely laughing so they can capture that once in a lifetime moment!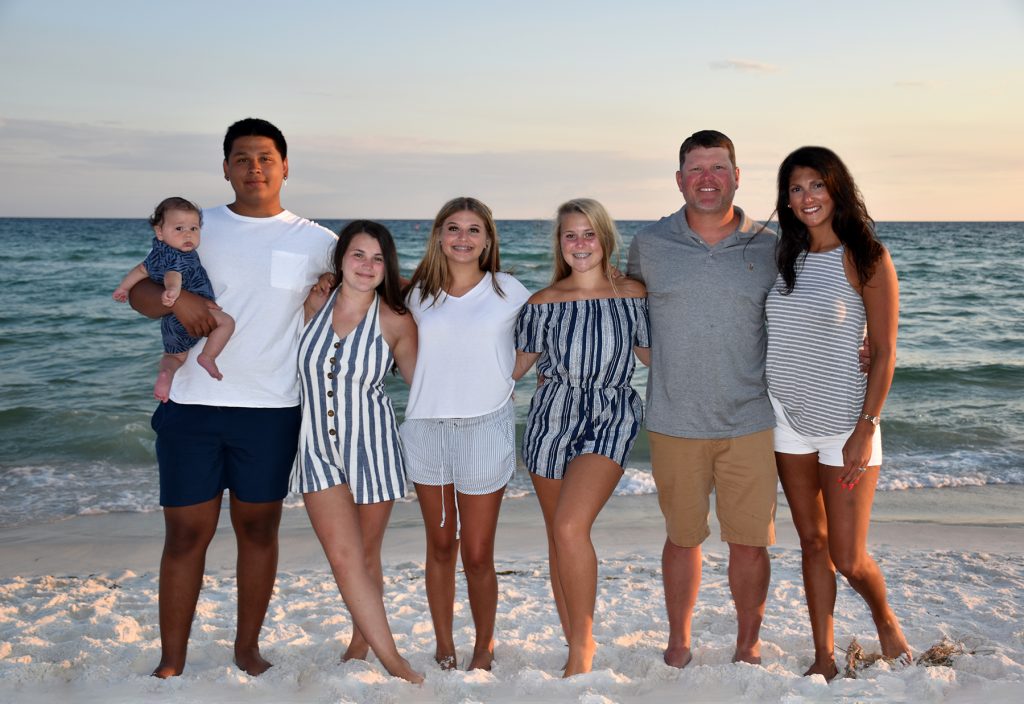 What a 12 year client has to say
The McMichael family has been a client of ours for the past 12 years. Within this time, both our PCB photographers and the McMichael's have been able to create some of the most exquisite photographs. We have used these photographs as samples to hang in our studio storefront, but more importantly, the McMichaels have been able to hang some of their best family photos in their home. Through the years, we have watched the girls grow up into mature young ladies. Their family has expanded over the years with grandchildren and may we say, it's so surreal!
Helpful Suggestions Before Taking Family Photos
Photographers have a wide range when it comes to how they structure their photography services. From how much time they spend on a session, to how much the photos actually cost, here at Smiles we have designed a process that all vacationers can afford and enjoy. Although, when it comes to shopping for your family photographer this trip to Panama City Beach, FL, you may want to consider a few things.
Time
Time is always valuable, but it is extra precious on vacation. The time that it takes to schedule your photo appointment, the time that is spent during the photo session and the time selecting your favorites is all time taken out of your vacation hours in Panama City Beach,FL. So Smiles has highlighted a few main factors that set us apart from other local photographers.
We offer Same Day Appointment Bookings.
We have a large staff, so we can offer Same Day Bookings with ease. Many photographers require a certain amount of notice because they are a one man show. Here at Smiles, we understand is life doesn't always go according to plan. Sometimes the baby isn't going to feel well, or maybe you are running late from that boat tour. With life, we understand things come up. But this doesn't mean you should have to miss out on your family portraits. So rescheduling is a breeze with us!
We offer No Time Cap On Session.
Unlike competitors where they charge per minute or hour, we structure our services based around capturing all the combinations your group allows. We suggest bringing your entire family, so we can do a complete breakdown of you group. Our profession photographers will direct you for posing, but also will collaborate with you if you are looking for specific combinations. In general, our photographers take multiple group shots, individual families, couples, cousins, siblings, generation, etc. You name it, we seize it through the lens!
We are Available 7 Days a Week.
We never close from the months of March until October. That is 244 days we are open to service our clients. Our Panama City Beach photographers are available daily for appointments and our storefront is there to supply your viewing and purchasing needs. You can book through our phone service, 850-249-3349 or book online.
All Photos are Taken Today, Ready Today.
Another time saver is–when are they ready? Yes many folks can take photos, but actually turning around prints and enlargements same day is a vacationer's dream. Since these photos are part of your PCB experience, we believe that enjoying viewing and selecting them should be a part of your experience as well. We pride ourselves on servicing you from beginning to the very end. We like to do this in person at our storefront, because we can custom tailor your order to your liking.
Investment
No Sitting Cost.
Yes that is right! We do not charge anything to take your family photos and there is no catch. We believe in our product so much that we know you will love the photos. Many photographers will charge a deposit or a charge up front for the session. But we love to let our customers decide on purchasing afterwards. Since our photography sessions are conducted on the beach, you never know what mother nature has planned. Wind, overcast, maybe the it's the babies first time to the beach and they absolutely hate sand. We do not believe in locking you into an investment before you actually see what you are purchasing. Every photo shoot is different ranging from outdoor elements to your family dynamic. Our professional photographers are trained within the elements to ensure your receive the photos you dream of, but everyone's dreams are unique. This is why we let you decide what you want to purchase.
Another fascinating aspect that set us apart is that there is no minimum purchase required. We offer individual prints and products for a family that is looking for that one special shot to hang over the fireplace. However, the majority of our clients fall in love with more then just one or two photographs. For the folks who love a hand full, we offer multiple pose packaging. Our packaging is a build you own type style, once again catering to custom orders. We allow you to mix and match poses and sizes, while our specialist can assist with suggestions. And of course if you have to have them all, yes we do offer copyright releases.
Ease and Fun
Lastly this should be a fun activity for the entire family! Not a boring task that is dreaded and forced. Our friendly staff is upbeat and energetic on and off the sand! Our pro photographers enjoy each photo shoot they conduct because it is a chance to bond with you and help create some fun vacation memories. They will even have dad laughing and jumping while they have brother and sister hugging.