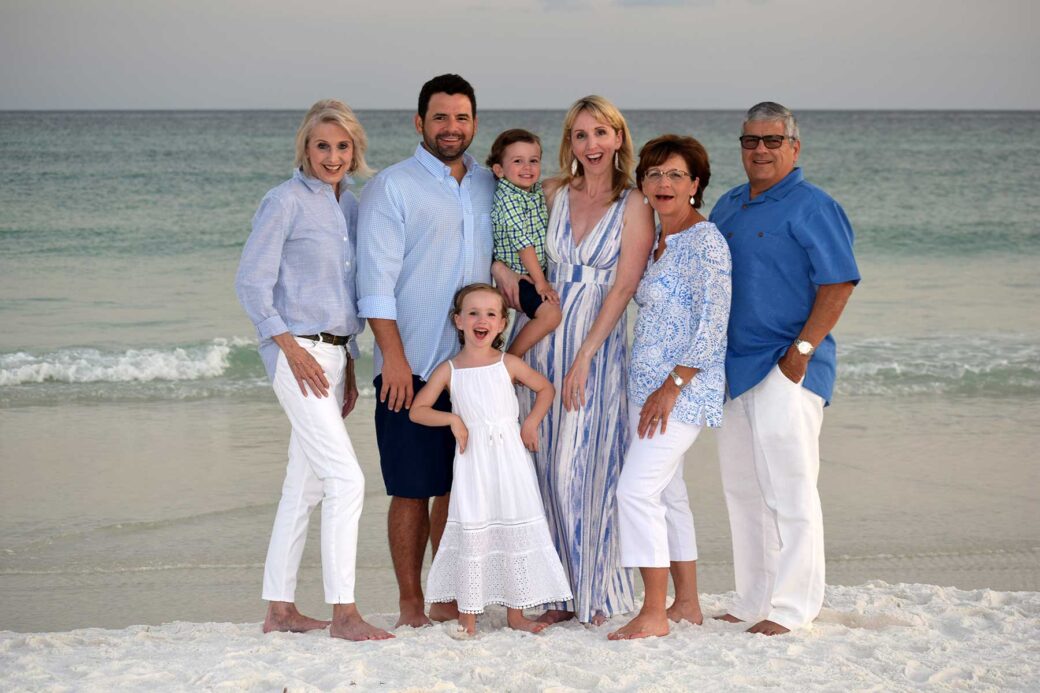 Ethereal lighting, gorgeous colors, beautiful sunsets, waves in the background – Panama City beaches offer everything a photographer could want to create stunning family beach photos.
The only thing Panama City beach photographers can't supply is the perfectly photogenic family – but riddle me this. Have you ever seen a bad family beach portrait? It's almost impossible to take bad family photographs on the beach; but there are definitely things you can do to elevate family beach photos into stunning works of art.
Our professional photographers have taken beach photos of thousands of families, and they've got some great tips that will help your entire family look awesome in family photos on Panama City beaches.
Ideal times to get Pictures Made
If you're scheduling a sitting for a family portrait on the beach, shoot for an appointment before 10 a.m. or after 5 p.m. The early morning or late afternoon sun is much kinder than the harsh lighting in the middle of the day. Aside from that, everyone looks better when they're not squinting in the bright sunlight.
For family beach photos with younger kids, try to time your beach photography sitting for a time that your kids are usually awake and happy. Avoid their cranky times – not too close to meals or naptime.
Outfit choice is essential
When you're deciding what to wear for your family beach photos, consider the colors in the surroundings. Blues, browns and greens look good on almost everyone, and will work beautifully against a seascape background. That doesn't mean you should avoid bright colors, though. Turquoise, fuchsia, tangerine and dandelion yellow can create bright pops of color against white or gold beach sand and ocean. Be sparing with the brights, though – use them as accents rather than main colors.
Don't Match – Coordinate
Matchy-matchy outfits can make your photo look staged, but you do want to coordinate colors and styles to some extent. Some families get stunning beach photos by dressing one kid in a bold print, then drawing colors for the other outfits from those colors. Another option that always looks great is for everyone to dress in khaki bottoms (or blue jeans!) and white tops – but with the styles varying. If you want a preview to help you decide, lay out all the outfits together on a bed or the carpet and photograph them. It will give you a good idea of how the patterns and colors will play against each other.
Be Comfortable
Above all, pick clothes that are comfortable and that you feel good wearing. That goes double for children. If you dress your kids in clothes that tug, bind or scratch, chances are they will be more focused on their fixing their outfit, rather then being present to smile for the photographer!
For anyone with long hair, it is best to wear it pulled back or styled away from face. Remember your beach photos are captured outdoors, you want to minimize the chance of hair blowing in your face.
Family beach photos are among our favorite assignments, and we want you to enjoy it as much as we do. Feel free to call and discuss any questions you have with our friendly Panama City Beach photographers. We're always happy to answer questions and give you our best advice. Call about scheduling or make an appointment online.