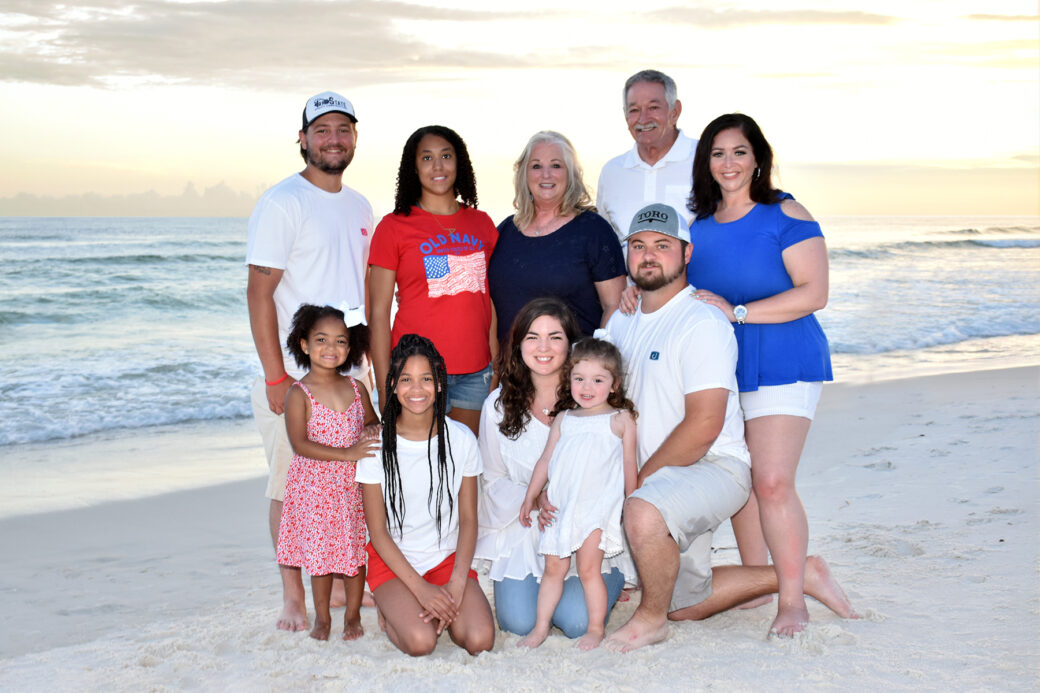 Why Panama City Beach FL for the 4th of July?
Well, Panama City Beach lights up the sky all week with the largest display on the Gulf Coast. Tourist and locals alike enjoy the festivities by soaking up the sun during the day, while awaiting the show stopping firework displays at night. With all the these events taking place throughout the holiday week, it creates great photo opportunities that you don't want to miss!
Tips for a successful beach family photo
Busy beaches are a photographer's nightmare. Luckily, we have some pro tips that will surely lend to easy family photos in Panama City Beach.
1. Bring your Camera Everywhere
Nowadays, phone cameras capture remarkable shots. If you have portrait mode we suggest switching to that. Photo opportunities can present themselves anywhere at anytime. Make sure to snap some photos at set times throughout your day. This will ensure you greaten the chance of the forgotten photo not happening.
2. Bring your family down closer to the water
The closer you have the family stand to the water, the less likely you will have folks walking in the background. If you notice too many people in the water, sometimes it's a nice option to take a few shots near some dunes or on a wooden walkway. Many locations on the beach have both of these allowing you to capture the Gulf in the distance.
3. Cute candids sometimes do the trick
4. Leave it to the pros
If you're wanting a coordinated family photo during your vacation, let Smiles Beach Photographers capture your memories this trip. With no sitting cost and same day availability, this is a great option for families and large groups alike. Perhaps do not schedule on the actually holiday, due to traffic and other festivities. Rather, schedule it a day or two in advance. You can make an appointment online.
---
Enjoy the Firework Displays and Other PCB Activities
Sometimes, the best way to capture the moment is to photograph the family playing a game on the beach or lighting some sparklers. Whatever the activity is, getting everyone's joyfulness on camera is what it's all about.
With 27 miles of beachfront, there's lots of beach to enjoy on PCB. The white sand beaches are among the most beautiful – and most active – in the world.
Firework Displays Information
1. Light Up the Bay Fireworks – July 2, 2022
Papa Joe's Bayside
Address: 601 West, US-98 Panama City, FL 32401
Bring a lawn chair and enjoy the food trucks onsite.
2. Light up the Gulf- July 3, 2022
Boardwalk Beach Resort Hotel
9600 S. Thomas Dr. Panama City Beach, FL 32408
Staring at 8:30pm this is the beaches largest private firework show! Free live entertainment and kids activities to sure to keep the entire family happy.
3. Freedom Rock's Fireworks- July 3rd
Grand Lagoon Coalition
Staring at 8:45pm you can view the display on the grassy lawn of the Treasure Island Marina.
4. Star Spangled Spectacular- July 4th
M.B. County Pier and Russell-Fields City Pier
Starting at 9pm sit back and relax, your mind is going to be blown away by this display. This is the largest firework display on the Gulf Coast! Venturing to the pier is an option, but we recommend going to the beach just a few blocks away to get the best views!
Check out some of our favorite beachfront activities while you're here.
We recommend the oysters at Sharky's and the margaritas at Harpoon Harry's.
You can also eat at Jimmy Buffet's Margaritaville.
Wander around Pier Park.
Visit St Andrews St Park.
Visit Shell Island.
Hike the trails at Conservation Park.
Have fun at Shipwreck Island Water Park.
Go snorkeling.
Go scuba diving.
Go deep sea fishing on a charter boat.
Fish from a pier.
Go parasailing.
Visit the Gulfarium Marine Adventure Park.
Rent a jet ski or waverunner.
Go paddleboarding.
Do yoga on the beach.
Rent a bike and ride a bike trail.
Hold an alligator.
Go golfing.
Play mini golf.
Ride a banana boat.
Try some new watersports.
Whether this is your first vacation to PCB or your last, you're guaranteed to have a great time. And we can help you commemorate all the memories with beach photos and photo souvenirs.