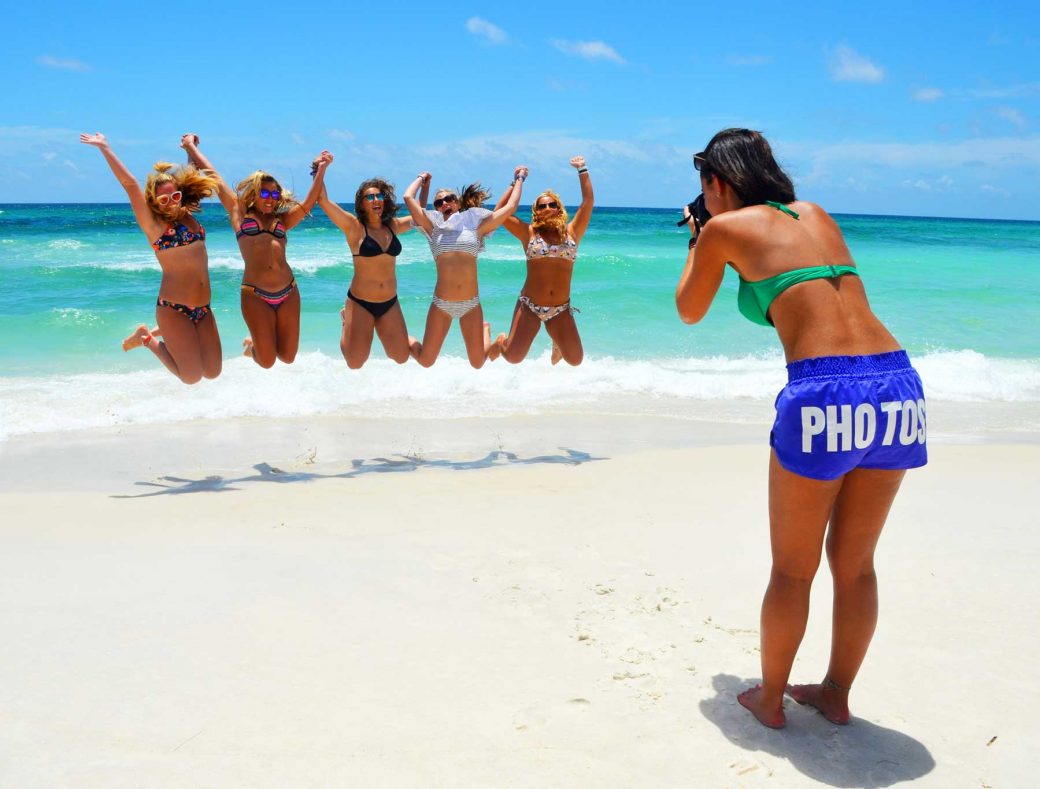 Panama City Beach is party central for spring break. There's the best music and live concert events, awesome activities to keep you hopping all day and all night long, and lots of great deals to be had on PCB dining, dancing and beach activities. As Panama City beach photographers, we love Spring Break, but we also recognize that whenever there are crowds, there is risk. These tips from PCB law enforcement can help you stay safe while you enjoy the biggest party in the world.
Use the Buddy System
Friends keep friends safe, so stay with your posse when you hit the beaches and the party scene. Take your cue from the celebrities who flock to Panama City Beach for Spring Break: travel with your entourage. You'll have more fun with your friends along for the ride, and everyone will be safer than if they're on their own.
Be on Health Watch
Sun and heat are wonderful, especially if you've traveled down from colder climes, but the UV rays and high temperatures carry risks as well. Add in a few alcoholic drinks, and you could find yourself dealing with sun-related illnesses or a painful sunburn. There are two important things you can do to prevent sunburn and dehydration: slather on that sunscreen, and drink, drink, drink water. Staying covered and hydrated all day long will help ensure that you're in great shape to party through the night.
Keep Your Eye on the Flags
Panama City Beach uses a flag system to inform the public about water conditions. Look for them on the beach. If you see two red flags, stay out of the water – no wading, no swimming, nothing. Two red flags means the water is closed, and no lifeguards are on duty – so if you get into trouble, you're on your own. Be responsible. Stay out of the water when red flags are flying.
Trust the Sand Patrol
Panama City Beach adds extra police officers during Spring Break, and their mission isn't to bust you. Instead, like most of the city, they're there to make sure everyone has a good time – and stays safe. If you have concerns about your safety or need information about the beach, look for a sand patrol officer. They're there to help.
Know the Laws About Drinking
First, remember that drinking age is 21. If you're under 21, there's still plenty of fun without the booze. Even if you're over 21, though, it's important to drink responsibly. Here are a few of the most important things to remember.
No drinking on the beach during March.
Arrange for transportation if you're planning to go out drinking. Many hotels can help you find a car service that will pick you up so you don't have to hunt for a cab later.
Do not drink and drive.
Do not drink and swim.
Watch your drink at all times – this is where having friends with you has extra benefits. While you're at it, don't accept open drinks – that includes mixed drinks in glasses – from others.
Keep your ID on you and wear your hotel wristbands on.
Stay off the balcony if you've been drinking.
And of course, we have one or two "safety" tips of our own.
Stay off social media after midnight – especially if you've drinking. What seems like a good idea at 3 a.m., could come back to haunt you for a very long time to come.
Leave the beach photography to the pros. We know how to make you look great!
Whether this is your first Spring Break or your last, you're guaranteed to have a great time, and we can help you commemorate all the memories with beach photos and photo souvenirs.