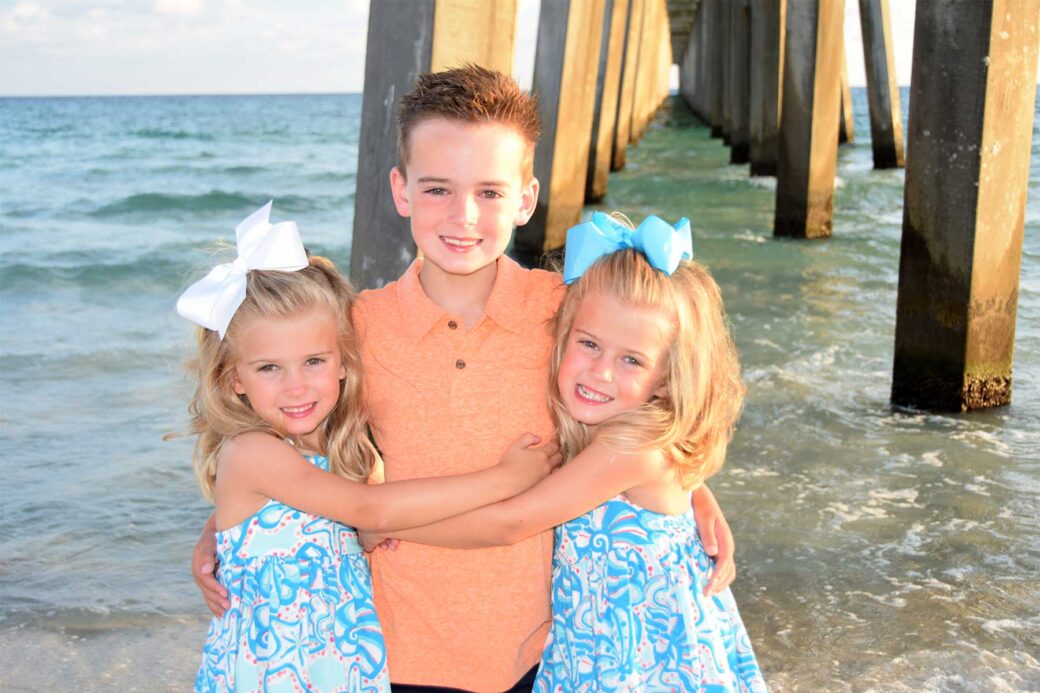 Planning a NW Florida beach vacation? Our best photographers in Panama City Beach, FL, are sharing their knowledge and "go to's" for getting your family photos taken at the beach!
Planning the prefect Panama City Beach, FL, beach portrait is easy when you have our pros to help guide you. From suggested timing, to properly balanced posing, our best Panama City Beach photographers will create stunning memories when you visit the most popular spot on the Panhandle of Florida's Emerald Coast.
Smiles Beach Photo knows time is valuable, especially when you are on vacation. Let us point out some great things to consider when booking your family photographer in Panama City Beach!
Booking the photoshoot:
Booking a photoshoot has never been so easy. Our local pros are experts on placing you to most convenient location and paring you with a highly skilled photographer to capture your portraits. During booking all that is required is a good phone number. No credit cards or upfront cost to reserve your family beach pictures. Did we mention we offer same day bookings?
Capturing the photos:
Your Panama City Beach photographer really goes above and beyond to get everyone smiling. During the photoshoot, you can expect to get a plethora of poses tailored to your group. If you are celebrating something special, your photographer will spend extra time focusing on the special occasion. All photographers are trained to work efficiently and effectively to ensure you get high quality photos.
Purchasing prints and photo products:
The ordering process mimics the booking process–convenient and ready the same day! After your photoshoot, you'll receive a link to view/order online if you choose. We also offer many kiosk locations across the beach where you can view and purchase your images directly after the photoshoot. Again, we know your time is important. Why wait to see you photos when you can get it all done in one night?!
Location is key and we have the most perfect spots
If you are a first timer visiting Panama City Beach, Florida, you're in luck. We have a wide variety of shooting locations, meaning you won't have to travel very far to get your perfect family pictures. What sets us apart from our local competitors? We have the ability to shoot in numerous locations on the beach. With up to seven main shooting locations, we are conveniently located across the entire beach. So you have plenty of options on travel distance as well as the "look" of your photo.
Picture perfect lighting–explained
The most popular question our expert photographers face daily is, "What is the best time to have the photos taken?" This is a tough question because, what I prefer for lighting, you may have a differing preference on. So instead of suggesting the best time, we like to explain the variety of lighting options when it come to our photography services.
Bright Beach Photos: If you want the sky bright blue with the sunshine illuminating the Gulf of Mexico, we suggest an earlier appointment. These photos are breathtakingly colorful. Just keep in mind that if you have a baby, a light sensitive person, or if you want everyone dressed in pants, this may not be the time selection for you.
Evening Lit Photos: This is a great choice for many group sizes. Our professional photographers always suggest this time to large groups so we have enough time to capture all combinations within the sunset session. This lighting is a bit softer, making the sun less harsh so everyone can open their eyes when they say "Cheese!"

Pro Traveler Tip: Book your Panama City Beach sunset family portraits in advance to ensure you receive the lighting you prefer. Make sure to ask one of our specialists to assist with options and location suggestions!
Our experienced Panama City Beach photographers are available throughout NW Florida's beaches including the areas of Panama City, Panama City Beach, Destin, Ft Walton Beach, Miramar Beach, and 30A.