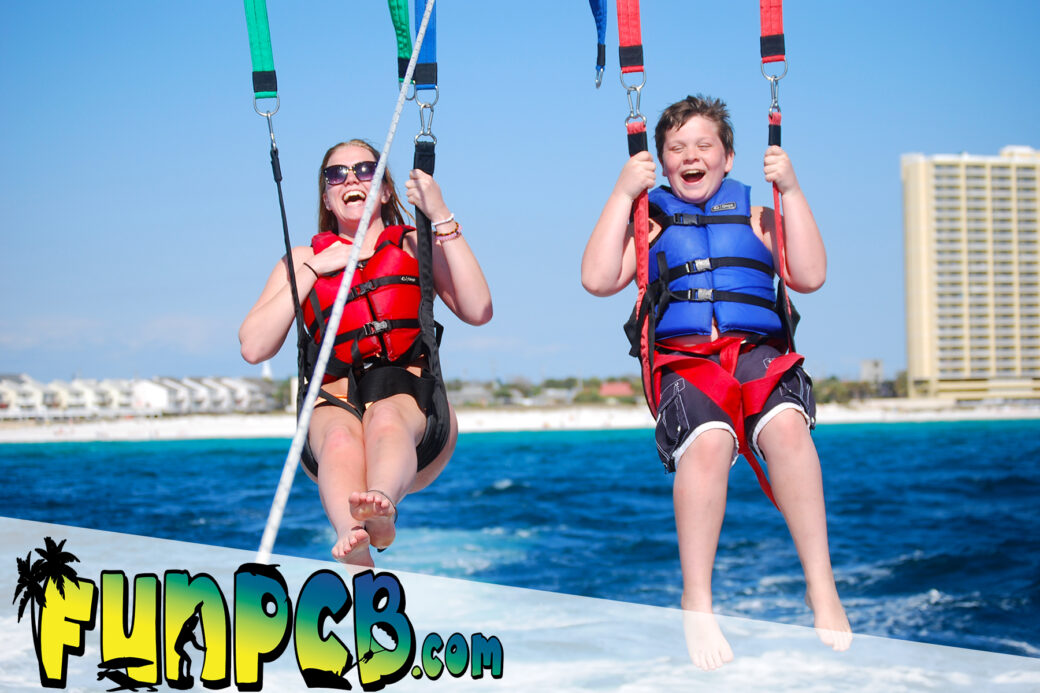 Panama City Beach is a perfect family spot that has plenty of activities to offer to all ages. In this day and age, it is key to have some preplanned activities as most offerings are first come first serve. We are sharing some of our favorite family activities that will surely make your vacation to Panama City Beach, Fl an unforgettable experience!
Through the decades the company FUNPCB has provided excellent tourism services. Their level of attentiveness to each customer is top notch which makes the entire experience truly enjoyable. Each Watersport activity that FUNPCB offers is worth checking out! Here are some of our favorites the company offers.
1. Panama City Beach Parasailing
If your family loves adventure on the water, parasailing with FUNPCB will provide an exciting way to experience the Gulf Waters. The thrill is accelerating but once you are in the sky a sense of calm takes overs. Admire the endless sandy white beaches, the wildlife in the water and sea breeze in your hair. This is truly an irreplaceable experience and definitely worth every penny! Another great add-on is you will be shuttled out to your parasail ride by a Banana Boat. So essentially you getting two activities in one(More bang for your Buck)! Whatever you take from this experience, it is one that you will remember.
2. Jet Ski Dolphin Tours
This one of a kind thrilling adventure will have the family enjoying the water in no time! This guide tour takes you to the most stunning areas to encounter opportunities to swim with dolphins, shelling and enjoy 20 miles of touring around the beautiful Shell Island. Jet Ski Dolphin Tours book up quick, make sure to reserve your tour!
3. Fishing in Panama City Beach: Deep Sea and Off-Shore
Who wants the hassle of packing gear, bait, and organizing! You are on vacation. The FunPCB Fishing Charters include everything you need for your fishing trip. All you need is some SPF and an empty cooler to haul your catch back home. Since there is a lot of planning that goes into this type of vacation activity, they have done an outstanding job of providing a detailed F.A.Q. With so much quality information you will be well prepared before you set sail. They provide professional service and go above and beyond to make sure this is an angler's paradise.
4. Pontoon Boat to Shell Island
You may have heard of Shell Island, and there's a good reason for the hype. Panama City Beach has of 27 miles of beautiful beaches, but what sets Shell Island apart is it is undisturbed nature. There are no hotels, restaurants, or even bathrooms. This island gives visitors time to truly unplug and enjoy the pristine Gulf waters and its wild life.
We recommend traveling to Shell Island by Pontoon Boat! You are in control of your day when you rent the boat for the entire day. Explore the St.Andrews bay but stay and play at Shell Island. This is a great day for the entire family, just make sure to pack enough drinks and food for the day!
5. Family Photographer in Panama City Beach
What is a family trip without family photos? You may be thinking, this seems more like a chore then it does a family activity. But with Smiles Beach Photo each family photoshoot is a fun lighthearted activity that produces great photos! With the waves crashing in the background the famous family jump photo surely gets the kids excited for what's next.
Each Panama City Beach photographer is highly trained for photographing outdoors. This is not the typical indoor studio portrait session. All photoshoots are fun, exciting and fast paced to make the experience enjoyable for all ages.
Don't forget to book your family photographer. Spots are limited and time slots are first come first severe. So make your reservation today!
We value our tourist and love to keep you up to date with the best offerings in the area. We want to share as much valuable information as we can because we know how blessed we are to be able to enjoy the best beaches of the Northwest Panhandle year round, and we want you to enjoy every minute you are visiting!